An Extensive History of The Cannanes
Part 1 : 1984-91 : The early years

RE ~ CURRENT LINEUP : who are The Cannanes? ~ The story is so complex we have put together a new page which attempts to clarify who's who, & who was who, over at: Dramatis personæ
---
PRELUDE
1984 Sydney, a beautiful harbour city on the east coast of Australia. Here on the South West side of town where the run down old terraces line the streets oblivious to the impending onslaught of renovators and warehouse converters that were about to descend on the area, lived some mostly unemployed youth.

A band was about to form that would never have a manager or a record label deal, but would nevertheless despite their slack nature go on to achieve a rather large international following and become an inspiration to slick fancy dudes the world over.
"Cannanes, Cannanes, Crawled out of drains
Sweet and precocious, Far from atrocious
We live at two o two, We haven't got a clue
We're far too middle class, Somewhat dirty arse, Cannanes, Cannanes.."

from "Tales of Brave Cannanes" Bleach/Nichols 1984
---
THE CANNANES Mk. 1... Sep/Oct 84 - Dec 84
The Cannanes really began as an imaginary band of David Nichols, featuring friends Annabel Bleach and Michelle Cannane. The fiction sort of became reality when David moved to Sydney from Melbourne in Oct. '84 and he and Annabel set up house at 202 Abercrombie St, over the road from 197 Abercrombie St, then the home of Stephen 'Hairy' O'Neil. Michelle and Annabel tried to think of names for the band and David did not know how well the idea of "Cannanes" would go down. But when he finally plucked up the courage they agreed. The idea of this lineup did not really change until early '85, but Michelle was rarely available, besides which, none of the members could actually play instruments. However in December one song was recorded with these 3 involved - "Ben" a one copy cassingle given to Ben Donaldson for xmas. David + Annabel recorded "Especially at Xmas" on Xmas eve/day, which can be found on Distant Violins no.16.

---
THE NEWTOWN SOUNDS
This was a band which started around October '84 and one day rehearsed in the front room of 202. According to Fran Gibson, membership of the Newtown Sounds was open to anybody, and "the worse you can play the better" or something like that. Other members were: Shivaun Inglis and Ben Donaldson. A few cover versions were attempted, including Barry Whites "It's Only Love" and the Marine Girls "Lure of the Rockpools". David and Annabel nervously joined in.

---
THE CANNANES MEET THE NEWTOWN SOUNDS... Dec 84 - Feb 85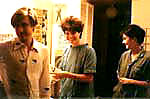 Annabel and David had written some lyrics, notably "The Cannanes"(later changed to "Tales of the Brave Cannanes" to suit their fixation with 60's supergroup Cream "Ode to Cream " (aka "Shower Scene Backstage at the Fillmore") and lines that were later to form "Ballsy" and "Teardrops" : Stephen had written music, or so he claimed, and so one afternoon in December the four rehearsed in the 'family room' at 202. At this session they composed and recorded "The Cannanes" and "Ode to Cream" (one rendition of which featured a guest performance from "Triffid" Alsy MacDonald), the same versions now found at the beginning of "Rarities". This is the first time Annabel sang in the group. Dafid was too nervous to play. "The Cannanes Meet The Newtown Sounds" composed many songs over this 3 month period, sometimes with and sometimes without Fran. Towards the end of the band's usage of this title, Stephen, Annabel and David recorded the 12 copies of the cassette single "Life"/"It's Hardly Worth It" individually. 3 shops were chosen to sell 3 copies each. Covers were individually made.

Also around this time C.M.T.N.S. performed "Ballsy", also to be found on "Rarities" David was out when this was recorded. Ben was present at this recording. Fran played flute. Ben also drummed at C.M.T.N.S. 1st gig which took place on the 15th of February at 12.08 am inside the Hellenic Hall in Chippendale.

In February, Fran, Stephen, Annabel, David and Michelle combined to record what was to become "The Cannanes Came Across With The Goods." It was to be a C30 cassette, side one beginning with "Hell & Back" and side two with "Sunday". "Bone " was to be excluded as it was cut off half way through.

After recording this tape, David was strongly in favour of dropping "The Newtown Sounds" from the band's name, mainly for the reason that he did not think many people would be able to remember / understand it. There was slight opposition to this idea.

---
THE CANNANES COME ACROSS WITH THE GOODS... Feb 85 - May 85
Although all the material on the Rarities / Come Across With The Goods cassette was in fact by The Cannanes in their ...! Meet the Newtown Sounds" days, the band had been far from idle since that time.

Many more songs had been composed including "Happy Was A Fly", "Skeleton is your Little Boy", "You're So Groovy", "Sunday" and "Gloom Turns to Boom" (pt.2).

The line-up in the Cannanes Mk. 2 was usually Annabel, David, Stephen, and Fran more often than not. A,D + S had busking forays in the streets of Sydney, including one marathon outside the Hellenic Hall recalled here by David's brother -

"In 1985 I was 16 years old. I was studying year 11 biology at high school. My main interests were gardening and golf. Something has changed in the intervening period... At easter time of that year my sister and I visited David in Sydney. His house had a tabloid newspaper poster in the kitchen which said "Skeleton is your little boy". On Saturday night there was some kind of benefit concert at the Hellenic Hall in Abercrombie St. with lots of punk bands playing. The Cannanes took two guitars and a drum, some cider and Tamsin and me and set up a sign outside saying "the Cannanes play 40 of their greatest hits" (or something like that). Not much money or interest was raised, but I do seem to remember an ugly drunken couple dirty-dancing (ahead of their time) to some tune or other, accompanied by Annabel's taunts. It took me a bit more than all this to convince me that The Cannanes were a 'band' but it was a start."
Michael Forbes Nichols Sydney, Australia 27/7/1990

In May of 1985, David decided he would have to return to Melbourne if he wanted to save enough money to go overseas, live performances virtually ceased, however on his occasional trips to Sydney and other band members occasional trips to Melbourne some new songs were written and the Come Across With The Goods cassette and our first 7" were produced. Michelle Cannane was to have taken Davids' place on drums but this was not to be (read on).
---
BORED, ANGRY, AND JEALOUS
This was a magic session of about five hours duration one day in April 1986, the Cannanes first studio experience and the only time we recorded with Annabel on anything more than a cassette. Not having to even leave Chippendale, we made our way down or should I say up to the Loft Studio on Broadway; there, under the watchful eye of our friend and producer Keith Hale (not to be confused with the turkey called Keith who owned the studio), seven songs were recorded and mixed to perfection, including the spontaneous, brilliant but never to be released "Blues' Birthday" song. On the 11th of April 1987 NME reviewed four of these songs which were initially released on Davids' Distant Violins label as the Bored Angry & Jealous E.P. "SINGLE OF THE YEAR!" the heading screamed The Legend had flipped his wig over us writing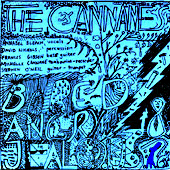 "I'm in love with the girl singer's bittersweet intonations, I'm in love with the boy's clattering percussion, I'm in love with the off-pitch trumpet and recorder, I'm in love with the singing bass, I'm in love with the goddam WHOLE!". This review was followed by a huge pile of letters from as far afield as Norway, Denmark, France, Germany, Sweden, England and the U.S. including this letter (sic) from Gail Limongelli on behalf of EMI America Records

"David: I would appreciate your forwarding a copy of THE CANNANES: Bored, Angry & Jealous EP to me at your earliest convenience. Thanks much. Regards, ..." This was the first of a string of letters from majors labels including EMI (UK), CBS (US), and later Crysalis (US), none of whom we ever heard back from after sending them samples of our wares.

In May of 1986 Calvin Johnson who runs the K label in Washington State asked us for material to release in cassette form on K Tapes, this was the start of a long relationship with the band and no doubt a good deal to do with the subsequent deluge of interest from the United States.

---
FOXY & SUE & RANDALL
Houd had a dream. He dreamt that he was in a bar where the Cannanes were playing and up at the front of the stage was a drummer, not the usual drummer but his childhood friend, Foxy. Foxy wasn't a drummer, he had never drummed before so naturally having the power to make this dream come true we did, while David spent six months in the UK the band played on.

"The boogie makes one move
On the floor one's in the groove
The rhythm of the street
Takes me higher
I'm thin, I'm cool I'm a piece of wire"

-from "Davids Trip" Gibson/Nichols 1987

Foxys' first show with us was on the 17th of May '86. After a couple of months a singer/songwriter named Randall Lee (who Stephen had been drumming with under the name Ashtray Boy and his Country Cousin), and violinist Susan Grigg (who also played with the legendary Chad's Tree and was a good friend of Michelle's) both started attending rehearsals.

To the right; a dreamy (double exposure) photo of us (as well as Ashtray Boy and his Country Cousin) playing live at The University of New South Wales Square House ~ Thanks to Keith Hale for taking and sending us this photo 3 decades later! Those with very good eyes will see two Annabells & Two Foxys; & Ashtray Boy himself in the overlay; freaky!
---
RETURN
Towards the end of 1986 David returned from overseas and Foxy departed the band (never, so far as we know, to play music again). It was November, time to record again. As Calvin had sent us some lyrics, Randall had a couple of songs, and we had a few tunes coming along nicely, we located a good, cheap studio run by two very amicable young musicians Thomas Tallis and Rick Newell. With the help of Christine Paice, we recorded our first album.

Still no one is really sure why but on the day we went to start recording The African Man's Tomato Annabel decided not to come to the studio with us ....

"cos it was too nice a day",

She is rumoured to have gone to the beach. I guess at the time we thought it a momentary lack of enthusiasm, but unfortunately it proved to be a long term thing. The positive side of it was that we had to write a whole lot of new stuff to fill up the album. Essentially it was done in two sessions. "We Drink Bitter", "Country Life", "Scaled Down" were at least three songs we recorded in the first session when we were somewhat taken by surprise at Annabel's sudden desertion, although we actually recorded "We Drink Bitter"again. By the second session we were much better qualified to make an album, we had for instance re-worked an Annabel song "Midnight A-Go-go" (Lyrics by Calvin, surprisingly similar to BH's song of the same name) into the perky "Love Only Takes a Minute". Other 2nd session songs were "Revenge" and "Middle Eastern Potentate". By the second session both Sue Grigg and Michelle Cannane had decided they didn't want to be involved anymore. MASS SCALE DESERTION! TREASON!! Naturally we kept on being too dumb to realize we were just a flash in the pan.

Up until this point the band had never been to a rehearsal room (always rehearsing at home or in the park or street or not at all). Judith the elderly lady who lived next door to Stephen and Fran at Eveleigh St would often complain when we made noise (which admittedly was a good deal of the time). So around March we decided to acquire a rehearsal space (long since demolished) which was a stuffy little underfelt lined ex banana storehouse (or something of the sort) in Kings Lane Darlinghurst very cheap but our cymbals kept disappearing.

By mid year the album was finished and eventually we got the money together to put it out. In Nov/Dec of '87 African Man's Tomato spent several weeks in the On The Street - Australian Chart reaching a high position of no.12.

Also somewhere around this time [dates needed!] the terrific clip maker Greg Ferguson very kindly filmed us around the Newtown Camperown area on 16mm & 8mm (a big deal in those days!) and magically edited it together into a music video clip for the song We Drink Bitter - here is a still from the clip, these scenes were shot on top of a disused multi story carpark (later converted to units) at the corner of Missenden & Parramatta Rds.
We had been playing a lot of shows throughout 1987 including many at a great little pub/venue called The Palace in Darlinghurst (Sydney), recording the "Cardboard" & "Weather" singles had commenced and on February the 10th 1988 we got our name mentioned on the cover of RAM (Australia's only widely read national music paper at the time) we felt we were having a pretty charmed run and in our complacency probably made a few bad decisions which were soon to impact upon the band in (quite possibly) the worst possible way!

---
THE UGLY CHAPTER... (Our first tour - Early '88)
To coincide with the simultaneous release of the "Weather"and"Cardboard" singles in March, the band decided to accept an offer to play at the Adelaide "fringe festival", the first time we were to venture from Sydney as a band. This was certainly one of our most unforgettable tours even though our memories are not all happy ones.

After arriving in town to find the promoter had left town and we only had two shows left out of the promised half dozen or so, we approached the festival organizers none of whom would take any responsibility for the shemozzle. We decided to go ahead with the two remaining shows and as we had arrived a few days early, we attempted to get a couple more. After a very strange episode involving a room full of burly bouncers, an afternoon of women dressed in gold lame dresses walking up and down Rundle Mall handing out flyers to the show, and Mark ? our sound engineer refusing to sound check instead preferring to get totally legless at the nearest pub (from which we had to physically retrieve him ) the following happened. As witnessed by Adelaide fanzine writer Bill Bostle.

"THE CANNANES had the misfortune to visit Adelaide at circus time. The circus in question was the excruciating Festerville Of Arts - a brief season of homegrown twaddle, which gives Adelaide's anglo-inbreds a chance to totter round wearing dead animals, while the local yup-mafia embark on what they fondly imagine to be a Kulcha frenzy. This year, one of the bright young haircuts at the fringe club had booked a couple of Hindley Street fleapits and recruited some interstate bands. Only problem was, in between fiddling the books and shooting through, he'd not worried overmuch about advertising or anything else. Thus, the following scene at that well known yob-rink The Venue - Jimmy Barnes is on the videodisco. Scores of lacquered hyaenas and liquored bozos stagger about on the dance floor. The charmless nurk on the door belches, farts, snatches our money and shoves us indoors. We appear to be the only 4 persons in the joint who are there to see the band. Gulp. After a while the video screen slides back to reveal a stage with some Cannanes on it. The hyaenas and yobs look at the Cannanes. The Cannanes look back. I look for the nearest fire exit.

The Cannanes then play three and a half songs. The George Cross has been awarded for acts less valorous than this. By now the hyaenas are looking hungry, and the redeyes along the bar have begun to howl. "Rorkinfugginroll!!","BARNNNESY!".

The manager, insurance premiums on his mind, wisely pulls the pin.

Meantime up the road, in the tin shed housing the fringe club, the entire population of Adelaide are spilling Island Coolers down each others' legs and haw-hawing louder n' a herd of donkeys in a pie factory.

And Adelaide's music fans? What of them? Well, anyone with half a brain won't go near the city while the poxy Festerville is on - if the yobs don't get ya. some birk in a safari stripe Renault certainly will."
-Bill Bostle in Adderlaid #5 Mid '88
Immediately following this fiasco the manager of the club we were to play at the following night (who had been in the audience) raced on stage and told us he would have to "blow us out". Anyway to cut it short we got ourselves a couple of gigs at very short notice and ended up playing three sets at the Astral one afternoon followed by two sets at the Century the same night, by which time our throats and fingers were bloody sore but boy were we tight!

---
SPLIT
On returning to Sydney spirits were very low and the feeling was that we needed to give it a rest and so sadly we played our "last show" at the Annandale Hotel, it was needless to say an emotional affair.

---
PHOENIX
Of course it wasn't long before we started hankering for some musical action and what began as a few "jams" with David, his good friend Ian White and Stephen & Frans' mates Gordon Renouf and Robin Miles, soon became a new batch of songs too good to go undocumented.

---
KEITH & KENNY (2nd Loft Sessions)
The A Love Affair With Nature album was to be the result of a real team effort with lyrical contributions from David's brother Michael, violin from Sue Grigg, general songwriting assistance from Ian White, and vocal help from Robin Miles and Will Stubbs. It was recorded at the Loft Studios between mid October and December '88

"By the time we booked The Loft studio in late '88 we probably had about six songs, at least, I recall "Seatbelt", "Paper Bag" and "Nuisance" being played all the way through to the end for the first time in the studio. Like African Man, we had friends in to add bits and bobs. Susan Grigg, who also played on the first LP, rehearsed her things the most and added something very nice to "Vivienne" and "Take Me to the Hotel Joanna" the title of which, incidentally, is based on a joke about a song, "The Flood Johanna", by her band Chad's Tree. Hardy har har... I hear you say.

Yes. The recording was fraught, as they always are (but it got worse). The Loft people had been sensational when we recorded our first record, Bored, Angry and Jealous, in about five hours in 1986. This time the engineer/owners, Keith and Ken (I remember seeing Michael Savage from Ministry of Love on Newtown Station around this time, they'd also recorded there, and he referred to them as "Keith and Ken the flowerpot men" but that hardly conveys their full craziness). Keith wanted to record us with the lights out, and when we objected (because we like to see what we're doing when we record) he went sullen and stayed that way for the entire recording. K&K would record us while listening to other recordings (Talking Heads and how could we ever forget tapes of their own "band" The Playbodys) on headphones, refuse to record and mix things how we wanted and recorded things on the wrong tracks, or over things we wanted to keep.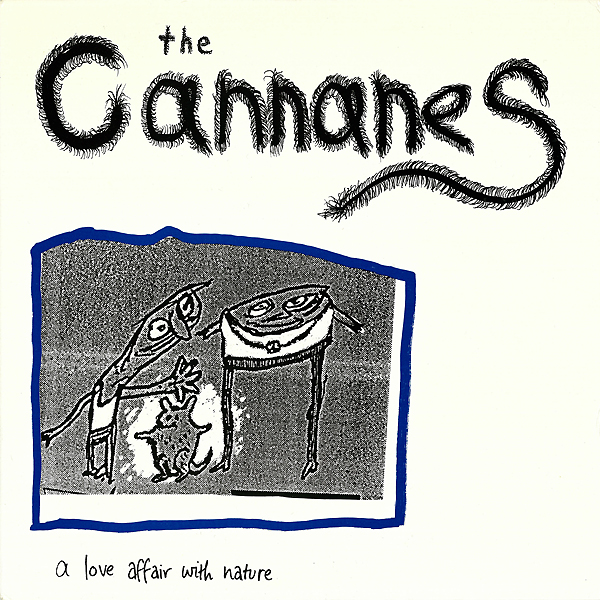 Wimps that we were, we went right through with the recording and mixing at The Loft, but in March of 1989 we decided to remix the whole album, we took our master tapes to Fatboy Studios in Rozelle (without telling K&K), where we worked with the talented but elusive Cameron Howlett (where are you Cameron) and some dude who said "Nuisance"reminded him of Not Drowning Waving, (possibly the worst moment of my life)."

This was written by David for the CD release of Love Affair in 1995

---
THE DEATH OF VINYL?
"If you divide the groups and artists of this country into Leagues, you could put them into the categories of major league, little league and 20,000 leagues under the sea. The Cannanes would seem to be busy blowing bubbles"
Murray Power ROLLING STONE March 1990

We released "A Love Affair" ourselves on purpley/crimson vinyl with no label name and it went OK and even received a rave review in Rolling Stone (Australian Ed.). Later we were approached by the Chicago based Feel Good All Over label to release it in the U.S.. It came out there on white vinyl with no inner sleeve (which we weren't too happy about).

It is difficult to know why the "Cardboard" and "Weather" singles and Love Affair album didn't make much of an impact in Australia, and why ever after it has been sort of dually irritating and gratifying that The Cannanes mean next to nothing in Australia but sell well enough in America and other parts of the world.

To people in other countries it must seem fairly absurd but to us it seems fairly natural. Firstly, we don't sound like any other band (at least we think we don't) and that is something of a drawback in this country where uniqueness is confusing. Well it could also just be that we are shit, but anyway...

Another theory might be that African Man was actually a fairly bad album and that it made people unwilling to investigate our next releases, which were obviously much better.

Another problem was that we didn't have a record label and everyone seems to want to know what label you're on, that is, you're supposed to make up a name for a label even if there isn't one, so, pretendies. Which is of course cataclysmically stupid. But it did bug people when you said you weren't on a label.

One last contributing factor (some of you old timers will remember it quite clearly) has to have been the way the CD format was introduced in Australia, with distributors and retailers simultaneously and quite shamelessly combining to wipe out vinyl releases despite steady sales due to the enhanced profit margins for CD sales (still outrageous at $30 a pop in Australia). By the time A Love Affair was released we realized this would be a problem sales wise but didn't have the funds to release it in both formats.

In our usual lackadaisical fashion and in protest at what we believed had been an inexcusable lack of response from the Australian music scene we virtually stopped playing live deciding to play only when were asked and that we would be a "recording band".

---
THE "LOST" YEARS... ('89-90)
Being a recording band proved to have its own difficulties. In March of 1990 we returned to Fatboy studio, again with Cameron Howlett and our long time engineer friend John Basset and began to record a song called "1990" and "the Marco Polo rock opera", a collection of five short and silly ditties about possible (but unlikely) events in the famous explorers life. (David takes the story from here) "I was sick as a dog the day we recorded these tracks and fully expected we'd record at least "1990" again. As a matter of fact we did (for Caveat Emptor) but not because of that. It all has to do with when the engineer calls you up late at night and utters the terrifying words "I've got your tapes in the boot of my car." Cameron Howlett had done a bunk from Fatboy, according to him because they were going down the dumper (and owed him money). According to them he had lots of troubles. Who knows? They obviously had lots of troubles too and they did go down the dumper a while afterwards. In any case, Cameron Howlett became impossible to trace, although I did find a Cameron Howlett on the phone who, after admitting he was Cameron Howlett, but then upon being told why I wanted him, said that in fact Cameron was only his middle name which he never used.

Prior to this we began a third album, untitled, at Sound Barrier where the attentive may recall we recorded the "Cardboard" & "Weather" singles in 1988. We recorded "Queen's Hotel" with our good & true friend Patty Stirling, this was in fact the only song we more or less completed because Patty was going back to the States. The other tunes recorded were "Christmas Tree", "Simon" and two which segued into each other: "Train" and "Third". We left this tape at the studio the owner of which then chucked a berko and started doing renovations. Acting on the advice of someone (I forget who - maybe Dave Boyne, our splendid engineer for this session) we contacted the studio to get our tape back. They'd lost it. I remember taking a couple of hours off work to go down there because the guy who ran the place said he might have found it. What he'd found was the box.. Inside it, or with it, was a water-damaged piece of absurdity which he and I had to listen to in detail.

Me: It's not our tape.

He: (Winding it on further and playing more) Are you sure?

Tape: Skree, skree, bong, bong, bog.

He had rooms with no floors and appeared to be using tapes as infill or something. I assume the Craven Fops' great unreleased album was buried here amongst other masterpieces."

Around the time of these recordings the band was videoed playing 14 songs live in the living room at 65 Cope St by Patty. Most of the "clips " were pretty funny to watch despite the poor sound quality. Some time later one (possibly two) of the "clips" ended up being shown on CHAOS TV during one of the most hilarious interviews we have ever been involved with. Mid-way through the interview (which was being broadcast live from a lecture room at the University of Sydney) students began to arrive and take their seats behind the backdrop. Some of the technical staff from CHAOS realizing what was going on came in and started moving furniture and taking down the backdrop, as the cameras rolled the whole interview moved from the lecture room to an adjoining room with only a brief loss of picture as one of the cameras came unplugged.

To fill part of their "live" musical voids Stephen and David started playing with other hip outfits Teapot and Crabstick respectively. Teapot were to rehearse for two years playing only two shows, but Crabstick were to last for three years (the allotted timespan for the project) and made two excellent albums as well having many other releases.

Mid-way through 1989 we tried desperately to add a new comrade to our ranks in the form of the gifted and devilishly handsome Nick Kidd, who Fran knew from Redfern Legal Centre. One night Nick & Fran got talking about flugel horns, french horns, ice-cream cones and conch shells and Nick revealed (to his eternal regret) that he actually played the French horn and a bit of "b'dum, b'dumbum" (here he mimicked plucking bass strings). Little did he know Fran always carries a syringe filled with panther tranquilizer which she slipped into his top gums. He fell to the floor and when he awoke we had rechristened him Nick the Cat. He touched his face - white makeup! Glitter! And his legs - he couldn't feel his legs! Yes, those knee-high leather boots were very tight. Nick was a new Cannane. The hapless Kidd first rehearsed with us in June then went on to strut his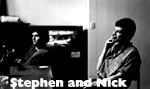 stuff on the ill-fated "1990" recording (bass + french horn) and then he turned the tables on us - he got married and had a baby. As Stephen ~ O'Neil is the John Lennon of the group it is cool for him to be married but not Nick, who was the Paul McCartney of the "outfit" or perhaps the Mike McGear, (whereas David is Denny Laine and Denny Sewell in one, Gavin Butler is the Brian Jones, Francesca Bussey is Henry "Medicine Jar" McCulloch and Frances Gibson is, naturellement, the Magic Alex). Scuttled by this treachery, we had to let him go. Not before forcing him to record certain tracks on Caveat Emptor with us. "Don't worry," we said, "it's a Henderson thing, it won't be released until 2097." Placated, he smiled, but little did he know we were bullshit merchants. It was only when casually munching gourmet pizza and potato wedges (yeah, he was ahead of his time) and dawdling his triplets on his knees and an extra artificial knee that Nick saw us cackling and rubbing our hands in sadistic glee on CHAOS TV with Matthew Liotta and laughing about how the album was actually due to come out within our lifetimes.

Recording of Caveat began on the 22/11/90 in Melbourne at the legendary Phantom Tollbooth studio with owner Perri Kenrick & Robert 'Bo' Boehm engineering. Singein' searin' songstress Maria Lieberth (now of Brown Anchor) guested on one track "Eating Biscuits" with lyrics actually written (by Frances) for Stephen who wouldn't/couldn't sing 'em. Perri also did a song, "Pizza Addict". These two tracks ended up on the b-side of the "Broken Bottles" single. The basic tracks for Caveat were recorded in Melbourne and then we went to Earth Media studios in Artarmon (Sydney) and did the rest in a couple of marathon sessions with John B. in the mixing chair. Oz rock legends The Angels (in the US known as Angel City) were round there too, recording a song for a b-side. What an exciting coupling - two Oz rock monoliths jamming in the same little studio high above Sydney on the Pacific Highway! Sadly we wuzn't old enuff for Bob, Zip, Doc, Frog and Slushy. "Cum back after your tenth anniversary gig" they said, "and bring yer moonshine jug too - then we'll see wot we can do". Sadly, it was to be, and we produced some of the most grotesque gothic inarticularcy rock had ever seen. But we digress.

Next stop on the Cannanes roundabout of fun was 19 Feb. '91 when we did a godawful live-to-air with Greg Luckman on 2SER. Those hated Sunday paper gossip columns slurped: "Bad luck, man!"

Towards the end of 1990 due to increasing interest from the U.S. we decided to go and tour there to promote our next album. We had recorded about 20 songs at Phantom Tollbooth studios during a recent trip to Melbourne and the perfect name had presented itself for the collection Caveat Emptor (Latin for : let the buyer beware). However as usual it should have been us being aware as the CD didn't come out until mid 1993 and the far superior vinyl version (a quite different collection) reached the test pressing stage (of which we scored 1 copy!) and never was released.

In March '91 the album was finished and we had been assured by John (Feel Good All Over) Henderson that the album would be out "a good month before the tour"; Fran and Stephen set off for a couple of months solid partying their way across Europe in preparation for the tour. Arriving in NY and finding the tour had been moved forward, both coming down with flu they boarded a train to join David in Chicago at the home of John H.
END OF PART-ONE :
So have a break, get yourself a nice cup of tea and a biscuit, before you settle into Part Two of The Cannanes Story.