Click PLAY above to play a brief audio history of The Cannanes
Back: Jim, Fran, Penny McBride
Front: Bon King, Andy
[ 2002 ~ 2004 lineup ]

_______________
Frances Sputnik Gibson, Stewart Anderson, Hairs, Jim Woff and (seated) Andrew Coffey
[March 2001]
_______________
Guy Blackman, Fran, Stewart and Hairs New York Uni 2001
_______________

Fran, Explosion & Hairs
Brooklyn June '99
_______________
Fran, Stewart & Hairs Brighton June '99
_______________
Fran & Hairs NY May '99
_______________
For forthcoming band activities
_______________
The Complete discography of The Cannanes
go to DISCOGRAPHY
_______________
_______________
The illustrated CD releases of The Cannanes (with some reviews)
go to CD's
_______________
_______________
The illustrated Vinyl release of The Cannanes
go to Vinyl
_______________
_______________
The full 60,000+ word illustrated history of The Cannanes
go to History
_______________
_______
2016 Deluxe Redux 'ReMasters' of our 2nd LP release A Love Affair With Nature, 12" comes with downloads of the album + 13 additional tracks (also remastered) + Deluxe 13 Page PDF Booklet; Digitals now available on BandCamp iTunes Spotify etc... (International Release on Chapter Music September 16th 2016) reviews here Upcoming show dates here
2015 Digital 'Original Masters' reissue of the Communicating album, now on iTunes etc... (International Release January 2015) reviews here August/September 2015 United States & Australia tour dates here
2015 ~ Australian & U.S. Touring Lineup ~ L-R ~ Hairs, Nick, Penny, James, Fran, Bon
~ for more details & images of current lineup click HERE photograph by Mark Farrelly
Read Reviews from Rolling Stone, The Age, The Canberra Times, The Sydney Morning Herald (& others) of our last studio album release Howling at all Hours CD, 12" & Digital (International Release 5th July 2013) reviews here
Read Reviews from CMJ, Beat Magazine, Pop Matters, Spin (& others) of our other recent release the Small Batch Maxi EP (CD U.S. Release 19th March 2013 ~ 12" Released 28th May 2013) reviews here

The CANNANES (in a nutshell)

The Cannanes have been described as 'the world's most indie band' but despite never having a manager, agent or signing a recording deal they have toured the world, headlined numerous sold out concerts in London, New York and Tokyo, produced numerous recordings, and been recognised internationally as one of Australia's best known bands. Even Kurt Cobain listed the Cannanes as a band he liked in his journal. Back in Australia they received high rotation airplay on national radio station JJJ for their album Trouble seemed so far away, (released on the Slabco label (Los Angeles) and Lamingtone (Australia). In February 2006 they completed a six date tour of Japan (their 3rd) and in May & June of 2008 they completed a 15 date tour of the US and Mexico headlining the 2008 NYC Pop Fest, as well as spending two weeks recording in Manhattan. While they were touring the documentary Short Poppy Syndrome, about the band, had it's World Premiere at the Light Bulb Festival in the UK. In November 2008 Converse released a limited edition Cannanes (Chuck Taylor) Gym boot as part of the (Product) Red campaign to raise money for the Global Fund to fight Aids Tuberculosis & Malaria. 2010 saw the band back in the UK for a mini tour joined on stage by members of Sarandon. 2011-12 saw the band hard at work in various studios and mastering rooms around the world preparing for the release frenzy of 2013!
2013 Howling at all Hours Lineup ~ L-R ~ Mia, Hairs, Francesca, Fran, James & David
In March 2013 the Maxi EP Small Batch (CD, Dig., [ & 12" Vinyl released 28th May]) received a deluge of favourable reviews (see link up top), April 2013 saw the release of a 7 track small batch remixes (digital 7 track ep of remixes by English DJ Richie Phoe and US Dubsters Dr Version & Chowtime).
In June 2013 the band were invited to play the Chickfactor 21 Fest in New York, while there they managed more recording dates both in Brooklyn [N.Y.] & Flagstaff, Arizona. July 5th '13 saw the release of a new album Howling at all Hours (CD, Dig., & 12"). In Sept/Oct 2013 the band completed a highly successful East Coast Australian Tour & a gala launch for the Howling album, and in an already busy year October 1st saw the release of the Hit The Wall Maxi 7". November 2014 the band spent two weeks recording in Arizona. 2015 saw a highly successful 'mini-tour' of Victoria followed by an 8 date U.S. Tour and their 1st show in Berlin! 2016 saw more recording and shows in the U.S. and the rerelease and massive Relaunch of their A Love Affair With Nature [Remastered] LP at Melbourne's Legendary Tote Hotel. February 2017 sees work continue on a heap or remastering projects; as well as putting the finishing touches to two new studio albums, a bunch of singles, EPs, & other projects. As the band moves into it's 33rd year! expect a swag of new & re-releases throughout 2017/18.
A LITTLE MORE INFO:

Previous recordings have been financed by established labels in the USA & the UK and their 11 LPs African Man's Tomato, A Love Affair With Nature, Caveat Emptor, Witchetty Pole, Short Poppy Syndrome, The Cannanes, Arty Barbecue, Living The Dream, Communicating At An Unknown Rate, Trouble seemed so far away, and Howling at all Hours as well as a multitude of increasingly collectable CD/EP's + cassette 7'' & 12'' EP releases.
2005-08 The first 'Big Band' period ~ L-R ~ G Roy, Fran, Penny McBride, Bon King, James Dutton & SirHairs
Since the Cannanes' first release 'Bored Angry and Jealous' was named Single of the Year by UK music magazine NME in late 1986, the band has attracted an ever expanding international following. Based in Sydney Australia the band has had a lengthy recording career and toured extensively in Australia and completed six tours of the USA. They've played at The Knitting Factory and Maxwell's in New York and as far afield as Nashville, Tennessee and Olympia. While in Chicago two members of the band recorded a number of songs with punk legend Mark Perry under the watchful eye of Steve Albini. The 1998 tour took them to Japan for the first time, and in 1999 they completed their 1st World Tour with shows in England, Scotland, Germany, Holland, U.S., Canada & Japan. A definite highlight of this tour was the honour of playing at the 3rd Yoyo festival held in Olympia (Washington State). 2000 - 2001 saw two more US tours (East then West) and a swag of new releases including the exceptionally well received 'Communicating at an unknown rate'.
The Cannanes with Steward ~ Sydney ~ April 2001
Many releases have achieved widespread airplay, particularly on US College Radio hitting number one on numerous charts as well as appearances in CMJs' top 100. They have rated extensive mentions in SPIN Alternative Record Guide, Trouser Press Guide to 90's Rock, Virgin Encyclopedia of Indie & New Wave, The Encyclopedia of Australian Rock and in 1997 co-published with Woozy magazine their own autobiography 'Baby Take a Bow' in the UK.
Over the years the band has also contributed to literally dozens of compilation projects released in many different countries. Those they are most proud of are 'Fortune Cookie Prize' (which raised more than US$ 15,000 for Sasha Bruce Youthworks (a Washington DC homeless refuge) and more recently 'Indie Aid Abroad: A Little Help for East Timor' (which raised over AUD$3000 all of which went to aid projects).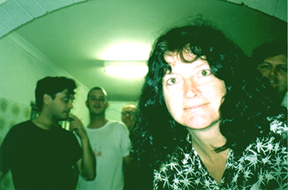 Recent recordings have included collaborations with New York based loop Wizard Stephen Hermann (aka Explosion Robinson); and from Leeds England, Stewart Anderson (aka Steward). As well as the new Small Batch Maxi-EP released March(CD)/May(12") 2013, Howling at all Hours released by Australian label Chapter Records July 2013; work is presently underway on four more new albums projects recorded in Sydney, Melbourne, New York and Flagstaff - as well as a re-release schedule including a re-mastered A Love Affair With Nature, a remixed Caveat Emptor, and a 'Best of so far' Pillars for posterity and other projects far too numerous to mention here. For Individual Bios + photos of the current members go to PressKit_Photos and History_Part.1
For more information on The Cannanes (than you can shake a stick at!) use the navigation at top of page to take you through our 60,000+ word History section. For any other questions / suggestions: feel free to email us at cannanes(at)cannanes(dot)com or call us on (03) 5441 3007 (within Australia) or +61 3 5441 3007 (from outside Australia)
"reminds us that Flying Nun acts weren't the only influential DIY bands from our hemisphere."



Doug Wallen reviewing Howling at all Hours 4 Star Review! in Rolling Stone Sept '13

"It's nothing short of mesmerizing"
Stephen Haag reviewing Small Batch for PopMatters 3rd April 2013

"Featuring just six songs, it's a taste of why The Cannanes should be on everyone's play list."
Patrick Emery for Beat 2nd April 2013

"the Cannanes have returned and showed us why they deserve to be regarded as true innovators of indie pop"
Trevor Smith reviewing Small Batch for CMJ 20th March 2013

"Cardigan-owners, rejoice!"
Marc Hogan Reviewing Small Batch on spin.com 09/01/13

"The Cannanes saved me from a lifetime of seeking approval off others."
Houseboy for Faster Louder April '05

"Now the bands bittersweet jangle comes with a cosmic hue"



4 Star Review! of Trouble seemed so far away in Rolling Stone Feb '03

"the Cannanes latest album Trouble Seemed so far Away is one of the definitive musical highlights of 2002"
Meeshell Ho for Ozmusic project Nov '02

"the Cannanes can melt your heart with moonlit symphonies more comforting than orchids and chenille"
Portland Mercury 26/7/01

"Their attraction undoubtedly lies in their Australian identity, which often evokes the same mythmaking as Brisbane's Go Betweens."
David Olivetti Rolling Stone April '01

"... a dream-pop manifesto, but has anyone ever woken up from a dream as gorgeous as "You Name It"?"
Greil Marcus SALON 18/12/00

''Australia's secret pride, and the most casual indie-pop band Anywhere''
VILLAGE VOICE October '00

''They have inspired more groups world-wide than you and I have had hot dinners''
Shane O'Donohue INPRESS June '00

''The Cannanes are, without a doubt, Australia's best-kept musical secret.''
SF WEEKLY July '99

''gorgeous barbed pop songs that sound deceptively smooth until you listen to the lyrics - 'castigations of dim friends, clueless ex-lovers and technologically fostered isolation'. It's like biting into a chocolate fudge cake and finding it filled with tongue-blistering chilli''
Joanna Fag in BACK:BEAT June/July '99

''Each of this record's eleven tunes has a melody warm enough to melt an iceberg and catchy enough to hook a school of haddock with one cast.''
Bill Myer reviewing Arty Barbecue CD in INK BLOT '98

''It all adds up to another essential release from one of the most criminally taken-for-granted bands of our time.''
J Neo Marvin reviewing Arty Barbecue in PUNCTURE 42 July '98

''they've pre-empted every major music trend of the past decade (ok, so they missed the boat on the manchester thing...) AND done it with more guts and honour than anything that followed''
(h.) in c.e Xmas '97

''The fluid Australian combo is willfully amateurish and occasionally a bit too cute for its own good, but the utterly unpretentious purity of the band's output is hard to deny.''
dss in TROUSER PRESS GUIDE TO 90's ROCK 5th ed. '97

''I'm, getting tired of telling folks over and over again how the Cannanes' unlikely lyrics, quick-shuffle strumming, offhandedly-original vocal melodies, and general endless-shoebox-of-pop makes them Exhibit A among bands whose parlor-pop portable simplicity hasn't prevented them from making very good music for a very long thyme.''
Steve B in POPWATCH No.8 December '96

''I feel compelled to go out and gather their rather extensive back catalogue. if only someone would give me a list!''
Geoff Towner reviewing The Cannanes [CD] in DRUM MEDIA September '96

''to describe The Cannanes for you, in a single image, would be this - James Joyce in exile from his beloved homeland writing Ulysses on scraps of newspaper.''
Richard Vogt in OTS August '96

''Plaintive music about the limits of dreams, the Cannanes are a Ken Loach movie for your ears''
Ann Powers VILLAGE VOICE March '96

''You'd be an idiot to miss this rare chance to see the Cannanes, a group that practically embodies the essence of truly independent truly personal music.''
Richard Salty TIME OFF 23/11/94

''you'd be hard pressed to find prettier songs than 'Perfect Light' and 'Chosen One.''
Matt Hickey ALTERNATIVE PRESS Oct. '94

''tonight I was reminded what good pop songs should sound like''
Guy Blackman (live review) in SALTY & DELICIOUS Aug. '94

'International Pop Conquorors'
Lauren Z IN PRESS 15/6/94

''The Cannanes will always be one of my favourite bands. Like, I never remember the fact , but each time I hear them I just think, 'F***, I love this band''
Sarah Kestle (reviewing Witchetty Pole MELODY MAKER 18/9/93

''They are a bit quirky, a bit pop, a bit reflective, and a bit jolly, but they are all class''
Michael Olliffe (live review) OTS 17/8/93

''Cannanes music, lies in the stylistic lucky-dip somewhere between the Stooges & the Carpenters''
Kylie Burtland HONI SOIT 13/10/92

''The Last Of The Great Shamblers''
Everett True MELODY MAKER 8/10/88

''The Cannanes are pranksters of pop who poke their jests at everyone including themselves''
Steven Cadbury RAM 21/1/88

''Kings of the do it now''
Simon Reynolds NME 3/1/87

"sound that is TIMELESS"
The Legend NME 11/4/87