THE CANNANES NEWSLETTER NO.20
JUNE 2001
CONTENTS
1. USA WEST COAST TOUR-July 2001
2. WHY PUT OUT 2 NEW EPS AT ONCE?- FELICITY AND CRANK IT UP!
3. TALKING AT SHOWS
4. COMPETITION WINNERS
5. WWW.CANNANES.COM
6. IN PROGRESS

1.WORKING FOR THE YANKEE DOLLAR WEST COAST USA TOUR
Despite the fact that the Australian dollar is now worth 23Cents US and we will be forced to live on scraps thrown to us by passing kindly Americans we will be appearing all going to plan as follows:
Thursday 12 JULY San Francisco Bottom of the HILL San (with Steward) Francisco Pop Fantasy
17-22 JULY Olympia Capitol Theatre Yo Yo (with Steward) Festival Thursday
26 JULY Seattle SunsetTavern at 5433 Ballard Avenue NW Friday
27 July Portland the red & black cafe with Honeybunch and hopefully: the I live the life of a movie star secret hideout 2138 SE Division st Portland 513-231-3899 WASHINGTON
Sat 28th or thereabouts San Francisco ? (please check our website for confirmation)

Steward is abandoning us after Yo Yo and returning to the land of his birth in preparation for his approaching nuptials (yes I have told him not to get married but will he listen? - luckily he is marrying Ms Turrell who is really the perfect choice as even a person passionately opposed to the institution of marriage can admit.) The others are refusing to come to the USA at all until George Bush leaves office so we shall be attempting the last 2 - 3 shows ourselves. This could be a wonderful intimate experience for you all ( or not-we shall have to see) BYO Maraccas

2. WHY PUT OUT 2 NEW EPS AT ONCE?
oh I can't be expected to know the answer to ridiculous questions like that-I blame the music industry executives-Anyway they should both be available in July and maybe even at shows:
Crank it up-
Live Recordings made in San Francisco 1999 - Stephen Hairy O'Neil says this is funny-there are other adjectives that could be usefully employed .
Felicity-
Collaboration with Explosion Robinson and Steward this is a little sampler for our next cd which is called Trouble seemed so far away . This EP is really good especially Explosion's remix "Lost in Darkness". There is also a new song with Steward which is a bit of a go at somone who is a lot more famous than us-we call it the tall poppy syndrome and aaagghh!! a cover!!! Unheard of but yeah-L.O.V.E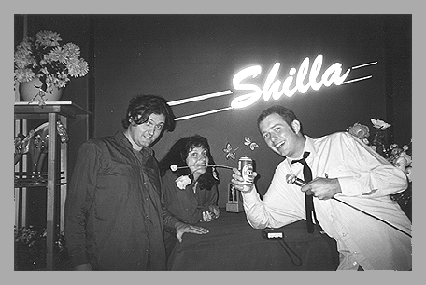 3.TALKING AT SHOWS
I reiterate previous advice that people are welcome to talk as much as they like at our shows- audiences that are dead quiet make me feel physically ill-I note from recent postings on the indie pop list that members of that list are planning to spill drinks over people that talk at shows. I suspect I will be quite recognisable in July at shows by the number of drink stains on my shirt - I wonder what these people drink- I suspect they are the mineral water types and it is summer so it may all be rather pleasant. And what a way to make new friends!!!

4. COMPETITION WINNERS
Winners of a Cd of their choice for their rather attractive pictures of themselves in cannanes t shirts are
J Neo Marvin from San Francisco
and Colum from Paris

5. WWW.CANNANES.COM
See constantly changing website for all other news - this is proving suprisingly popular and orders for product are pouring in from all over the globe particularly T shirts-the website is usually updated weekly-photos/MP3's etc

6. IN PROGRESS
Meanwhile in New York, Explosion and Adam are finishing cover art for New Cd out on Slabco soon with Explosion Robinson "Trouble Seemed so far away". Work has commenced on the new cd with Steward provisionally titled "Nobody Loves An Albatross".